Baseus DGXC-02 magnetic light
Baseus magnetic lamp will prove useful in a multitude of applications. It will provide you with an eye-friendly light, the brightness of which you can conveniently adjust to your needs. The device is easy to use, and thanks to the ability to quickly and easily mount it anywhere, you will save valuable space. Up to 24 hours of battery life and the ability to adjust the lamp's tilt up to 80° make it even more enjoyable to use.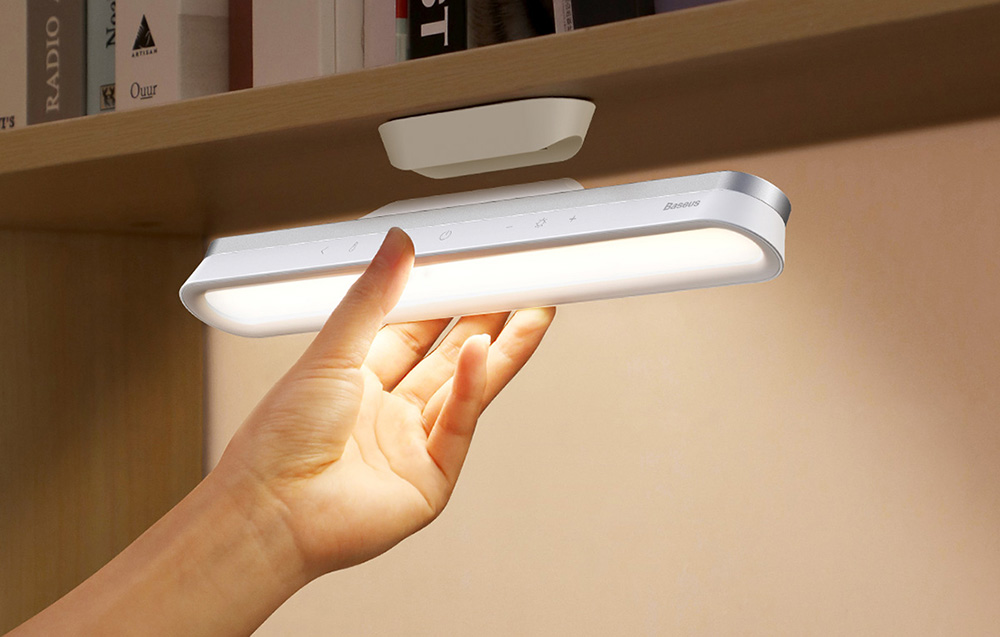 Stable mount
Forget about ordinary desk lamps that take up a lot of space and often prove not very practical. The magnetic base of the Baseus lamp allows you to attach it stably to a metal surface. Are you going to place the product somewhere else? This is also possible! Simply use the 3M adhesive mount and mount the device anywhere. This small and stylish light will provide you with optimal, even illumination wherever you want.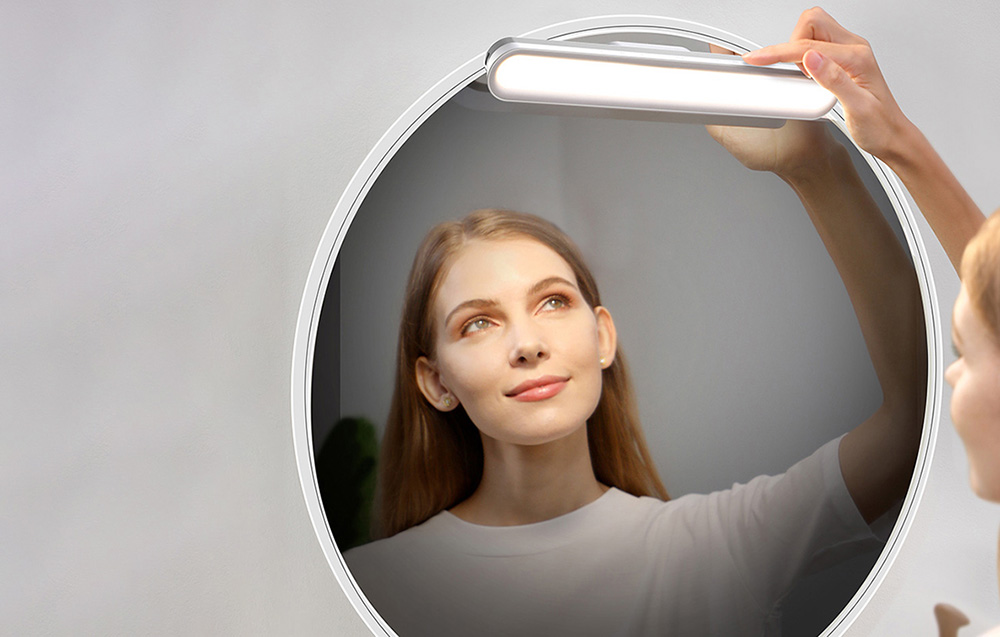 Adjustable brightness
Adjust the brightness of the light to suit your needs. The touch panel on the lamp with easy-to-read icons allows you to conveniently adjust the intensity of the light generated. The stepless dimming of the light will let you decide for yourself how you want the Baseus light to shine - nothing limits your convenience.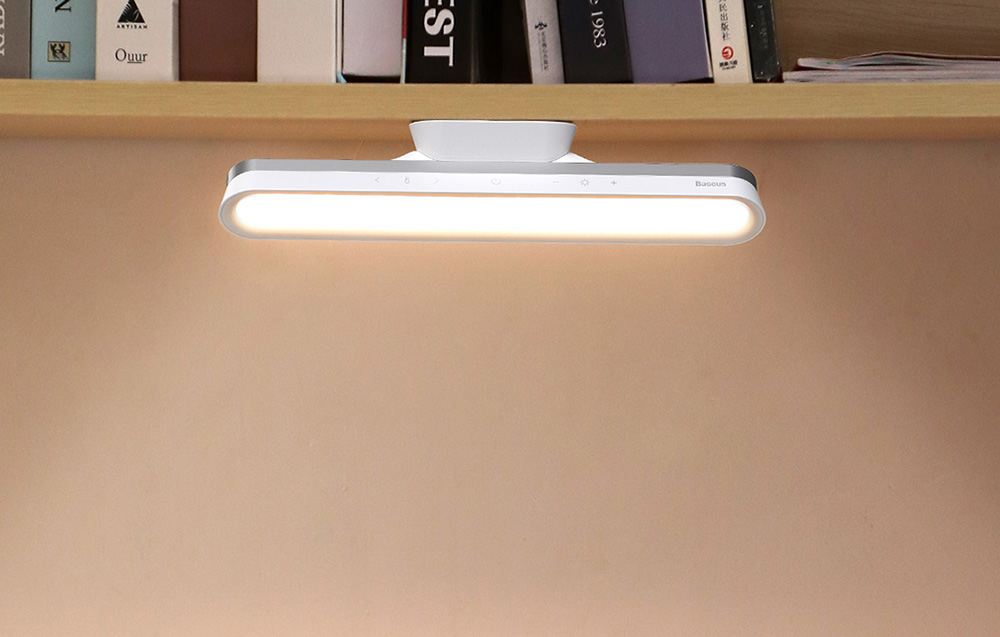 Glows for long hours
The product is equipped with a powerful rechargeable battery that you can charge with a regular charger, powerbank, or even a laptop or computer. It guarantees a long working time of the light. It can shine a bright light for about 4 hours. If, on the other hand, a slightly dimmer light is enough for you, the device will work continuously for up to 24 hours.
Will not harm your eyes
The device emits an eye-friendly light that doesn't glare your eyes and provides natural illumination without annoying flickering. To make you even more comfortable, it is possible to adjust the lamp's tilt up to 80°. This makes it easy to position it to optimally illuminate your work or entertainment space. The device also does not affect your eyes with harmful blue light.
Practical and versatile
The product is suitable for many applications. It will work well not only at your desk, but also, for example, as a hallway light or mirror illumination. You can also use it in the kitchen to provide adequate light while cooking. The lamp will also be perfect as a flashlight - you can easily detach it from the magnetic base and use it to safely move around the house in case of a power failure.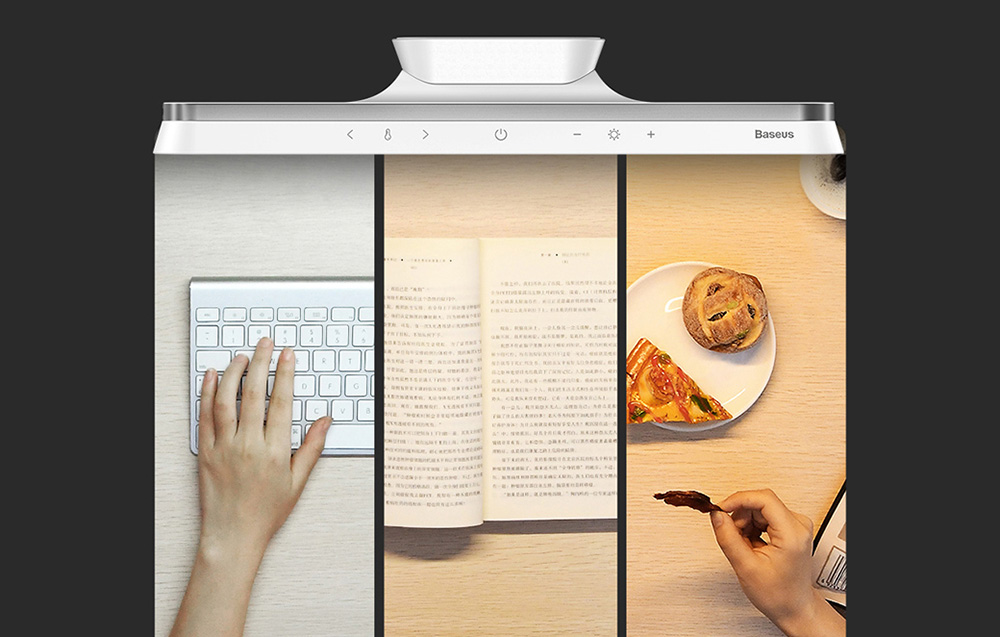 One press, many possibilities
Convenient touch panel will give you full control over the light of the lamp. Hold for a moment to turn it on and off, Decrease or increase the brightness of the lamp and change its color temperature freely, depending on your preference or where you currently need it.