Baseus CAHUB-CT0G multifunctional 11in1 hub
Does your laptop not have enough ports? Are you interested in increasing its capabilities? It's easier than you may think! The 11-in-1 multifunctional hub by Baseus is equipped with 3 USB 3.0, 1 USB-C, 2 HDMI, 1 VGA, 1 ethernet and 1 3.5mm audio ports. It also has slots for SD and TF cards. It supports high-speed file transfers of up to 5 Gbps and can display up to 4K video. It also supports PD 100 W fast charging on the USB-C port. It is also distinguished by incredibly efficient heat dissipation and wide compatibility. You'll find that it's worth using one port on your computer to get as many as 11 of them in return!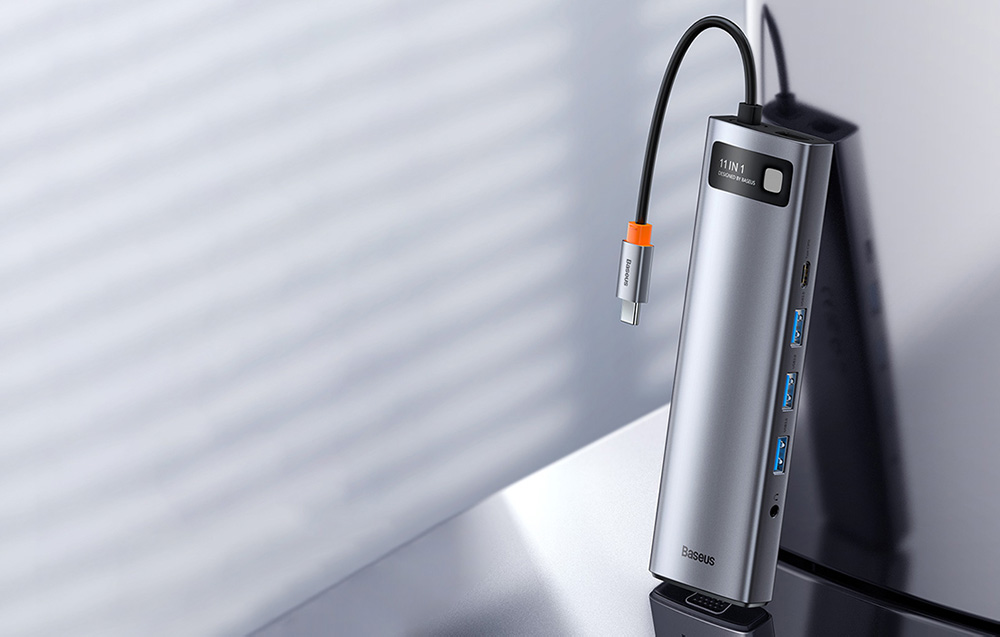 Fast charging of your devices
Enjoy fast charging of even several of your devices simultaneously. The hub supports PD and BC1.2 protocols - what does this mean in practice? With its help you will instantly charge your laptop with a power of up to 100 W - you no longer have to worry that it will suddenly refuse to work. At the same time you can also connect your phone or tablet to power. With Baseus, all the equipment you need will always be ready to go!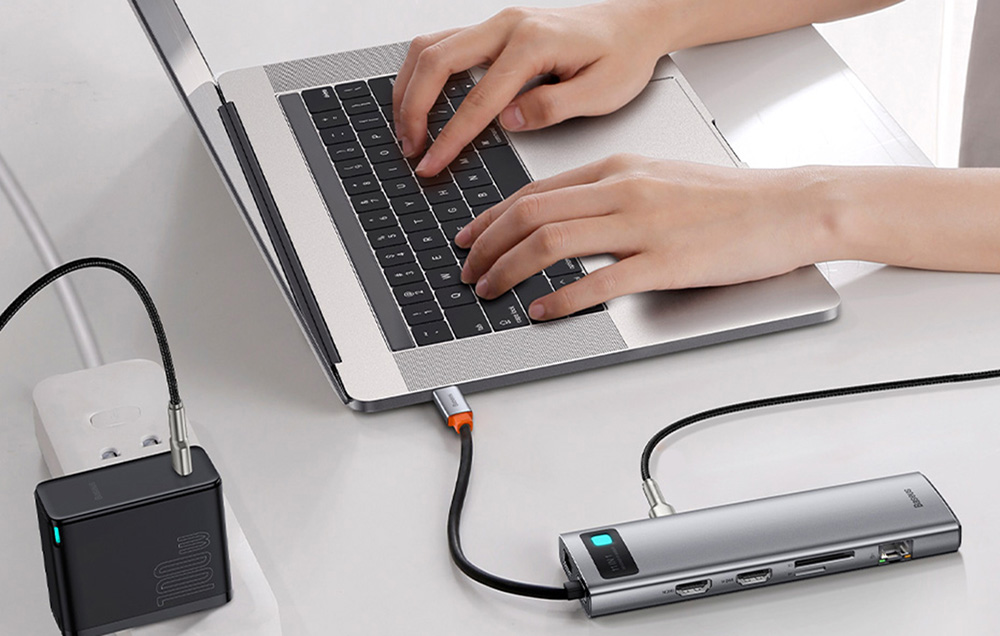 Display the image from your laptop on up to 3 additional screens
Do you like to watch movies on a big screen? Or do you often give lectures or presentations? The multifunctional hub by Baseus will certainly come in handy for you! The product is equipped with 2 HDMI and 1 VGA ports. This allows you to display on as many as 3 additional screens. Duplicate images on all your devices or show slides or recordings on 3 displays while taking notes, changing settings or working on your laptop. You can also, for example, blank out one of the 4 screens in use. The possibilities are truly vast!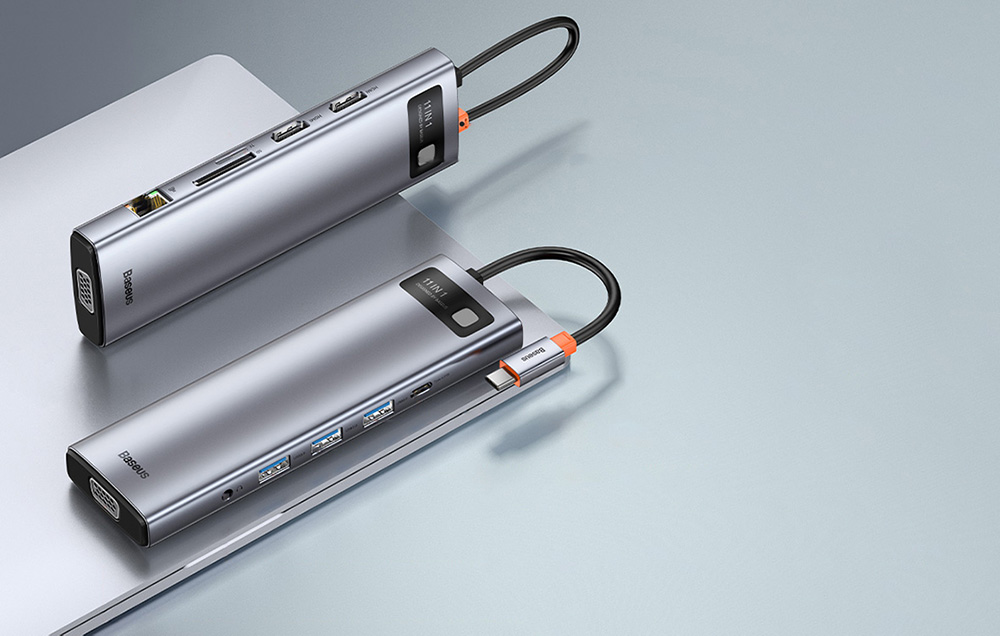 Enjoy excellent image quality
What else makes the Baseus hub so good for watching a movie or holding a conference? The HDMI port allows you to display excellent 4K/30 Hz image quality, so you can enjoy stunning richness of detail and crisp, natural colors. Conveniently watch the next episode of your favorite series on the big screen or show your audience an interesting presentation full of interesting yet clear slides.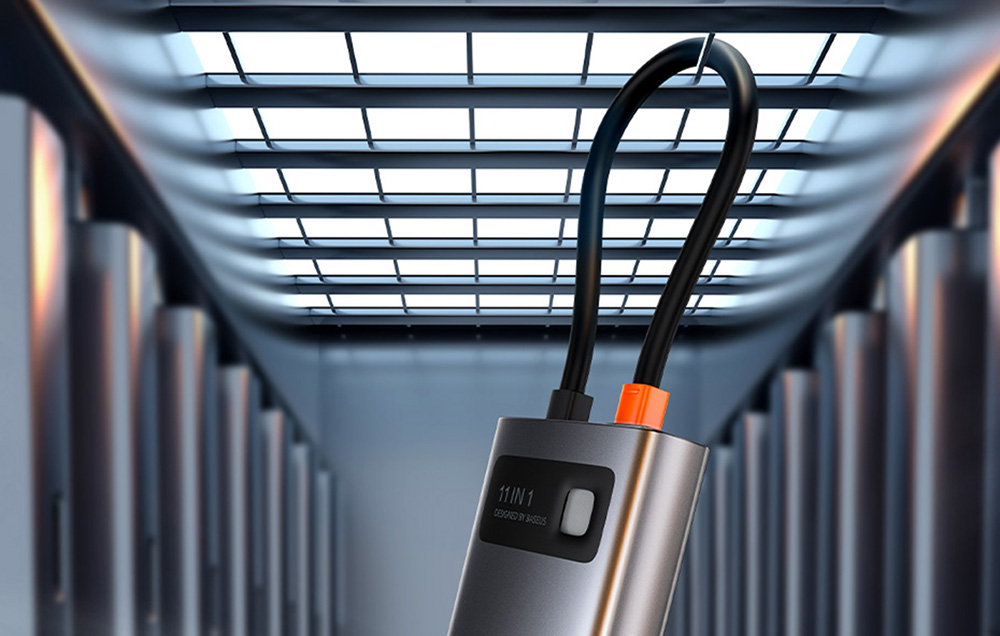 Transfer files in no time
Do you often find yourself transferring files between devices? Are you not smiling at waiting too long for data transfer? Baseus will help you solve similar problems! USB 3.0 ports allow you to transfer photos, videos or documents at speeds of up to 5 Gbps. Now even the largest files will find their destination in no time!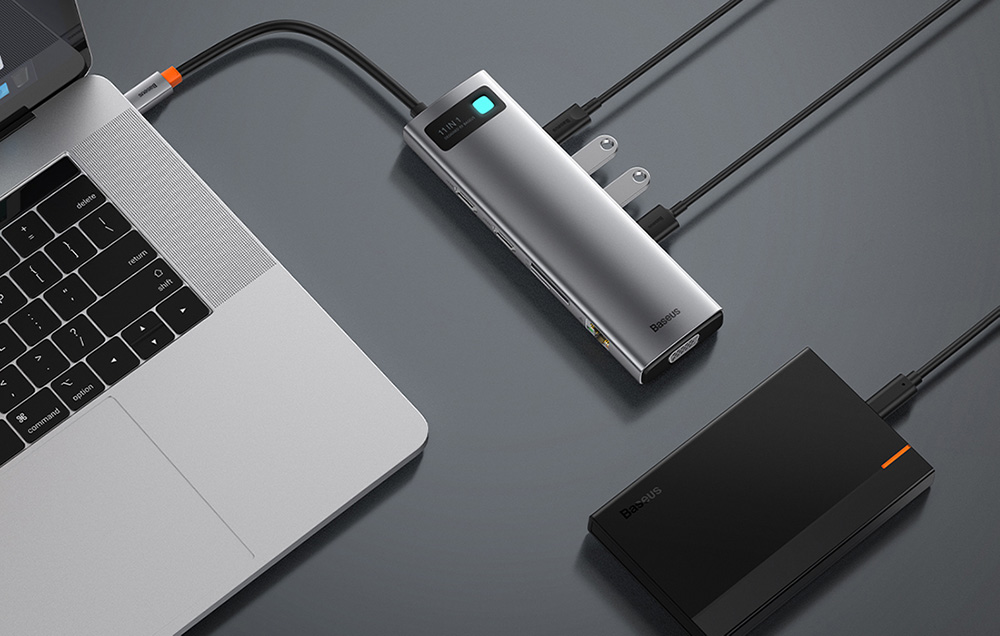 Conveniently use SD and TF cards
This is not the end of your file storage and transfer options. The hub is equipped with 2 slots for memory cards - SD and TF. Their maximum supported capacity reaches up to 2 TB, giving you plenty of space to save all the data you need. Want more? The device allows you to transfer files between the memory card and your computer at speeds of up to 60 MB/s. This makes it easy to organize your photos or videos, saving you time!
Get fast access to the Internet
Do you like to play online games? Watching YouTube videos is the perfect entertainment for you? Or maybe you just often need Internet access at work? The Baseus hub will also come in handy in such situations! The Ethernet port supports data transfer speeds of up to 1000/100/10 Mbps, so you can enjoy a smooth, fast and stable connection.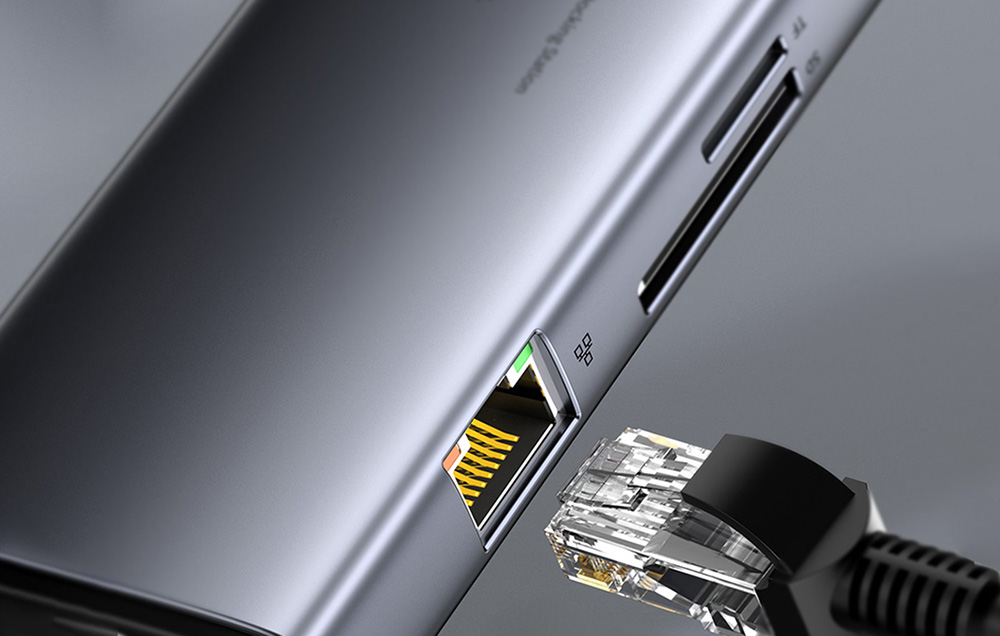 Use the full potential of your phone
Do you own a phone that supports the OTG function? We have excellent news for you! The Hub is compatible with similar devices and allows you to significantly increase their capabilities. With its help, for example, you can display the image from your smartphone on a large screen and comfortably watch HD movies. Want to transfer files between your phone and USB drive? No problem! Just connect the devices to the hub and copy all the data you need.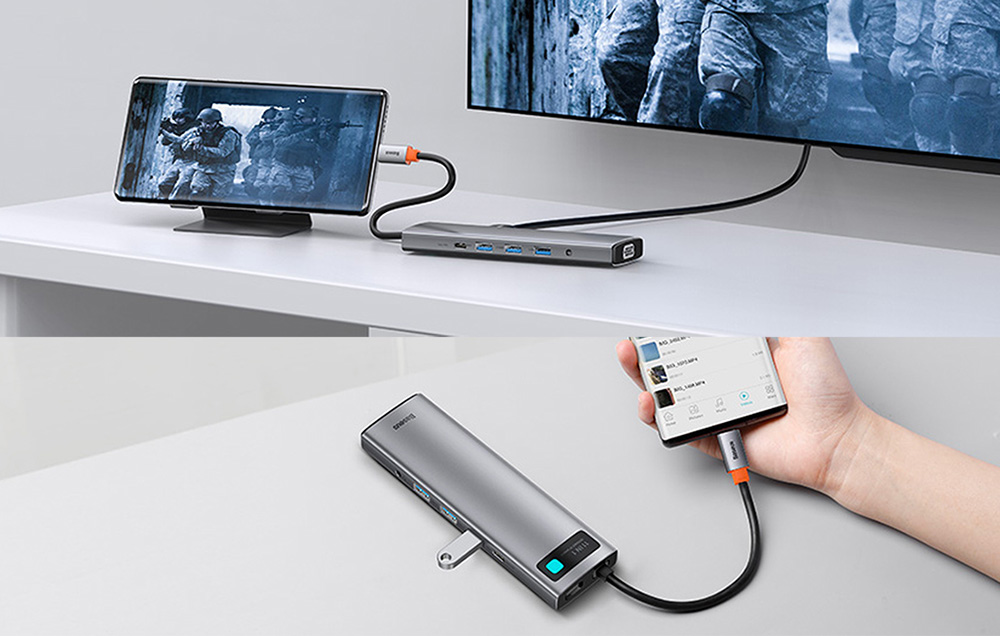 Compatible with your devices
Worried about possible compatibility problems? Don't be! The hub works perfectly with Windows, macOS, iPadOS and others. It can handle most USB-C equipped devices from popular brands such as Apple, HP, Lenovo, Acer, Razer, Samsung, Huawei and Honor. You don't have to worry about complicated configuration either. With the Plug&Play system, all you need to do is plug in the hub - say goodbye to having to install additional drivers!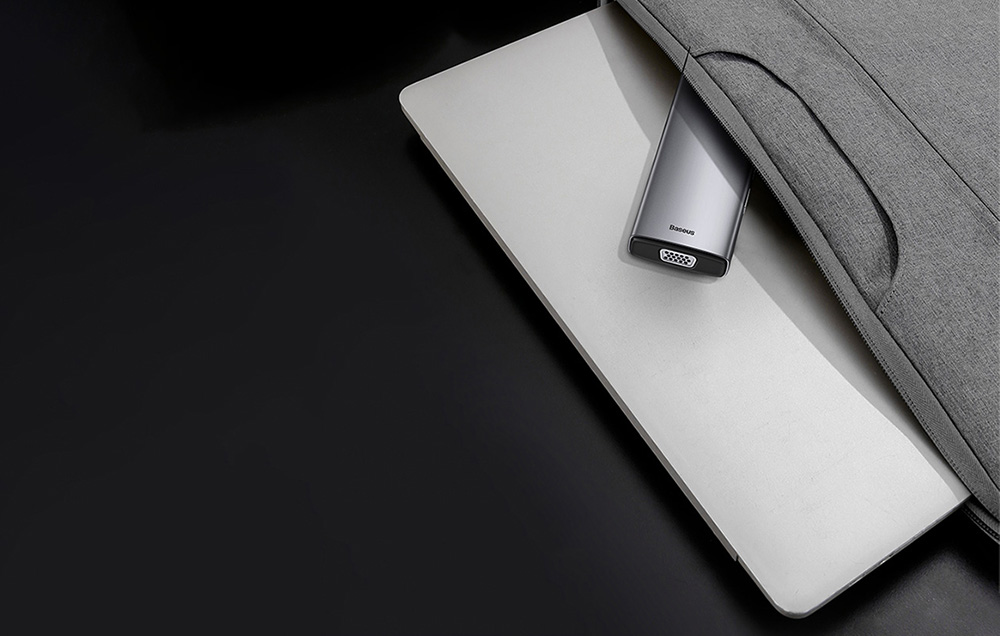 Additional amenities for you
The product is designed to meet even the most diverse needs of users. It draws attention with a stylish, modern design, and orange details give it an original character. Information about the status of the device will provide you with a blue indicator. Made of aluminum alloy, the case is extremely durable and resistant to wear and tear, while providing efficient heat dissipation. An additional 3.5mm audio port allows you to connect headphones or speakers, guaranteeing stunning, lossless sound quality. What's more, the hub is lightweight and portable enough to carry with you at all times!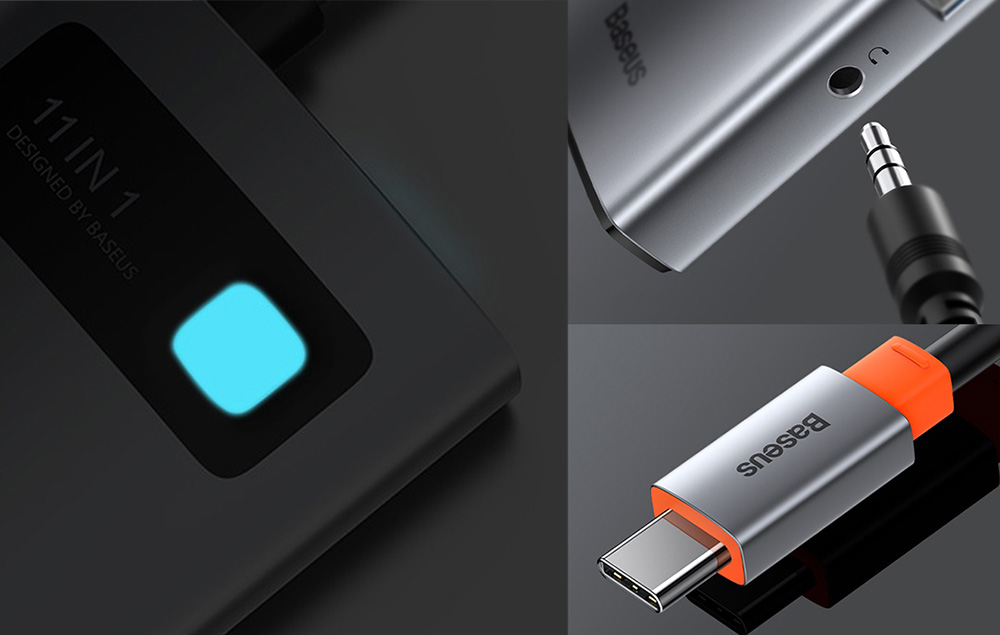 Included:
11in1 hub with USB-C cable
Specification:
| | |
| --- | --- |
| Manufacturer | Baseus |
| Name | Metal Glam Series 11-in-1 Multifunctional Type-C HUB Docking Station |
| Model | CAHUB-CT0G |
| Dimensions | 48 x 162 x 17 mm |
| Cable length | 180 mm |
| Material | Aluminum alloy |
| Technologies used | Sandblasting, anodizing |
| Color | Gray |
| Input | USB-C |
| PD port | 5V/9V/14.5V/20V 5A (max.) |
| HDMI | Supports 4K @30 Hz HD Display (max). |
| VGA transmission | Supports 1920x1080p @60 Hz (max). |
| USB 3.0 | Supports 5 Gbps (max), backward compatible with USB 2.0 |
| RJ45 network port | Supports 10 Mbps, 100 Mbps, 1000 Mbps |
| SD/TF port | Supports simultaneous reading and writing of SD 2.0 card data |
| 3.5mm audio port | US standard (CTIA) |
| Supported systems | MacOS, iPadOS, Windows |
| Standby current |   |
| Voltage | 5-20 V |
| Weight | 127 g (±5 g) |